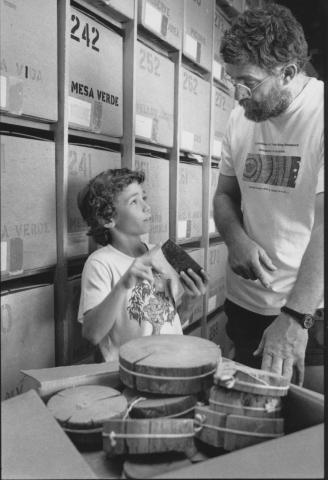 This endowment is named in honor of Rex Adams, long-time friend and colleague at the Laboratory of Tree-Ring Research. Although Rex is now enjoying his well-earned retirement, he continues to provide support to archiving and outreach activities at the lab.  Rex has been an integral part to decades of field sampling, laboratory procedures, scientific analyses and publication over three decades. Throughout his career, he played increasingly vital and visible roles in laboratory instruction and training others in dendrochronology, leading outreach initiatives and organizing the large permanent archive collection of dendrochronological wood samples from across the globe. In 2016, Rex was awarded the Richard L. Holmes Award for Outstanding Service to Dendrochronology for his decades of training and educating countless individuals from international visiting scholars to local school children.  
The endowment was made possible by the generous donation of an anonymous scholar who recognized the importance of this archive. Support of this endowment also assists with the ongoing survey, cataloging, rehousing, preservation, and access to wood specimens already housed within the repository.
Donors
With many thanks to our donors including: Soo-Hyun Baek; Julio L. Betancourt; Teresa A. Betancourt; Robert L. Bingham; Theresa R. Bingham; Robin M. Blackwood; Stephen E. Wilson; Kevin E. Bonine; Angela Urbon Bonine; Teresita David; Jon L. David; M. J. Demetras; John Umbrei; Linda S. Dobbyn; David M. Meko; Dominique Dominguez; Mark Edmondson; Margaret E. Evancho; Emily J. Herrell; Donald A. Falk; Emilia A. Falk; Chris Guiterman; Emily Heyerdahl; Beth Hickey; Katherine K. Hirschboeck; Robert A. Maddox; Jennifer L. Holland; Susan M. Kaleita; John D. Moeller; Deborah L. Kessler; Daniel B. Kessler; Ann Lynch; Prof. Thomas Meixner; Kathleen A. Meixner; Syver W. More; Judith A. More; Pamela J. Pelletier; Cecelia A. Perez; Jose C. Perez; Stephanie N. Schock; Randall S. Smith; Gudrun M. Godare; Charles M. Snell; Scott St George; Lisa L. Taiz; Cheryl K. Tomoeda; Leeann J. Wieser; Paul W. Wieser; Erika K. Wise; Prof. Connie A. Woodhouse; Yunbei Xu; as well as numerous anonymous donors. We would also like to thank the Sarah B. Smallhouse Advised Fund held at the Community Foundation for Southern Arizona.